Customer engagement is critical for growing your business. But how do you increase customer engagement when you don't have a loyal following?
You can't just snap your fingers and suddenly have thousands of customers waiting for you with their wallets wide open. One way of increasing brand awareness is through viral marketing, which relies on people sharing your message on various channels.
But what is viral marketing exactly, and how does it work? What companies have done it successfully?
This article will discuss the basics of viral marketing, give you examples of viral marketing, and help you understand how you can use this strategy to grow your company. Stay tuned until the end when we look at four viral marketing campaign examples.
Let's dive in!
What Is Viral Marketing?
"Viral marketing is a digital marketing strategy in which you leverage the power of social media to create buzz about your brand or product"
It's one of the most cost-effective forms of marketing that can do wonders for a brand's visibility and credibility.
The best way to understand the concept of viral marketing is through an example. Think of it as a virus that spreads fast and infects people.
Viral marketing refers to a new-age form of marketing, largely thanks to the appearance of social media, although the concept dates back to the 1990s.
One of the first viral marketing campaigns was created by Hotmail when they offered free email addresses to new subscribers—and they managed to raise about a million subscribers in only six months.
How Does a Viral Marketing Campaign Work?
Have you ever shared a funny meme with a friend? That's similar to how a viral marketing campaign works.
In a nutshell, the first step is to create a unique and creative marketing campaign that can be anything from a video to a challenge. The campaign is shared on an online marketing channel, such as social media platforms, forums, communities, blogs, news sites, messengers services, or email.
For the sake of this article, let's assume you created a video. You publish the video on your social media, soon reaching a few hundred viewers. Those viewers pick up the video and share it with their friends. One of their friends then shares the video with their own friends, and before you know it, your video has reached millions of people.
One example of a successful viral marketing campaign is Airbnb's "Live There" campaign. The campaign leveraged user-generated content by encouraging users to share their unique traveling experiences with Airbnb and post them on social media with the hashtag #LiveThere.
The campaign was promoted across social media channels like Instagram, Twitter, Facebook, and YouTube and in blogs and articles by independent bloggers, which brought the campaign a high level of awareness and engagement.

6 Elements of Viral Marketing Strategy
The bad news is that not every marketing campaign will be viral.
The good news is that there are some elements you can include in your brand marketing campaign to increase its chances of going viral.
The best viral marketing campaign:
#Is relevant to your target audience.
Every successful viral marketing campaign considers the target audience. The campaign has to resonate with your target audience so that people notice it and share it with their friends.
Before you start creating your campaign, try to answer the following questions:
What does my target audience feel passionate about?
What are people's hopes, dreams, and values?
What can I do to make them share the content with their social network?
#Is posted on the right platform.
For a campaign to go viral, it must be shared by thousands of people repeatedly. Your company needs to share the content on the right platforms to be picked up by your target audience.
Think about which platforms your target audience frequents. That's where your content is most likely to be shared. For example, for visual campaigns, Instagram is the ideal pick. For campaigns like the Ice Bucket Challenges, the best platforms are YouTube and TikTok.
#Is easily sharable.
Apart from posting the content on the right platform, you also want to make the content easily sharable for your audience. This means enabling sharing, embedding, and downloading capabilities on your content so that people can quickly send the content to their friends, download it, or convert it into a different format (like a GIF).
#Inspires strong emotional reactions from viewers.
For your marketing campaign to be successful, it needs to make your audience feel something: shock, awe, surprise, or sympathy. If people don't feel anything, why would they want to share your content?
All the most successful viral marketing campaigns inspire strong emotional reactions from viewers. For example, the Ice Bucket Challenge made people sympathize with those who have ALS. The Old Spice The Man Your Man Could Smell Like campaign won millions of viewers with its humor. The Dove Real Beauty Sketches campaign empowered women, evoking feelings of warmth, joy, and confidence.
#Features strong visuals.
People love great visuals. Color visuals can even increase the willingness to read by 80%. People recall 20% of what they read, 10% of what they see, but 80% of what they see and do.
That's why every viral marketing campaign needs a strong visual strategy. Whether it's a video or a GIF, your visual strategy must be compatible with your brand and target audience.
#Is creative.
You'll have better chances of your marketing campaign going viral if it's unique, innovative, and engaging. It needs to be something new and attention-grabbing.
In other words, it requires some careful planning and brainstorming from you and the creative team. You can always copy someone else's campaign, but people might not be so intrigued to share the content.
Think about your marketing goals to create something unique that your target audience craves.
What are you trying to achieve? Is your goal to promote your new product, or is it to spread a message?
Once you have the goal in mind, you can start planning how you can entice people to take the action you want them to take. For instance, if you're promoting your new product, you might create a fun contest. Encouraging people to post photos of themselves with your product with a specific hashtag is a good strategy for brand promotion.
Remember : The key is to give it a unique spin that engages people.
Viral Marketing Campaign Examples
Now that we analyzed the principal elements of a viral marketing campaign, we can look at several viral marketing examples of successful marketing campaigns to get you inspired.
Dropbox Referral Offer
In September 2008, Dropbox had a user base of around 100K. But between 2008 and 2010, the number of users began to double every three months, and by April 2010, Dropbox had 4M registered users. That's a 3900% growth over 15 months!
How?
They created a super-effective referral program that went viral. In fact, the company's referral program is one of the most studied referral programs in the history of referral marketing.
The Dropbox referral program was very straightforward: reward those who refer your company to their friends with more free space and those who accept an invitation. Both the referrer and the referred would get 500 MB of additional free space, up to a limit of 16 GB.
But in addition to creating a great referral program, they also made it incredibly easy for users to send a referral without too many steps. People could refer a friend by simply sharing their unique referral link via email, SMS, social media, or messenger apps.
But that's not all! People could also see how their invites performed. This feature kept users in a viral loop, motivating them to follow up with their friends and send more referrals to get even more free space.
Key Lessons:
Give users something for free.
Make the experience frictionless.
Motivate people to keep spreading the message.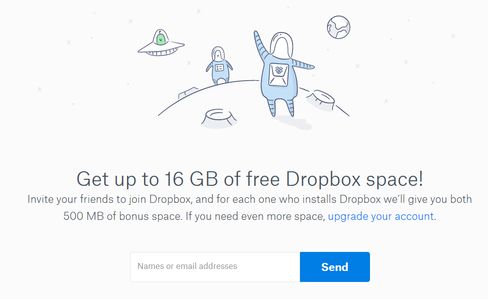 Image source: Dropbox
PayPal Referral Offer
Did you know that PayPal referral program inspired Dropbox to create its referral program?
PayPal was one of the first companies to achieve viral growth on a large scale through referral marketing.
The referral program was so successful that it boosted PayPal's growth by 1,650%. The company gained 1 million users in only two years after its inception in 1998. By 2004, the company had 100+ million users.
In the beginning, PayPal had issues winning new customers. They tried advertising, but it was too costly. They needed organic, viral growth. That's when they started giving people money.
Every customer who signed up for the first time was rewarded $10, and users with existing accounts received a bonus of $10. All users had to do was register, confirm their email address, and add a valid credit card. They even experimented with influencer marketing, partnering with eBay to improve brand promotion.
The strategy was so successful that PayPal spent tens of millions on signup and referral bonuses in the first year. This strategy is a great example of how properly managed referral programs can accelerate growth and revenue.
Key lessons:
Give users something extra upfront to rapidly drive brand loyalty.
Make the experience frictionless.
Offer rewards that make sense to your business.
Form partnerships with other companies or influencers.
Don't be afraid to take a risk and try a new approach.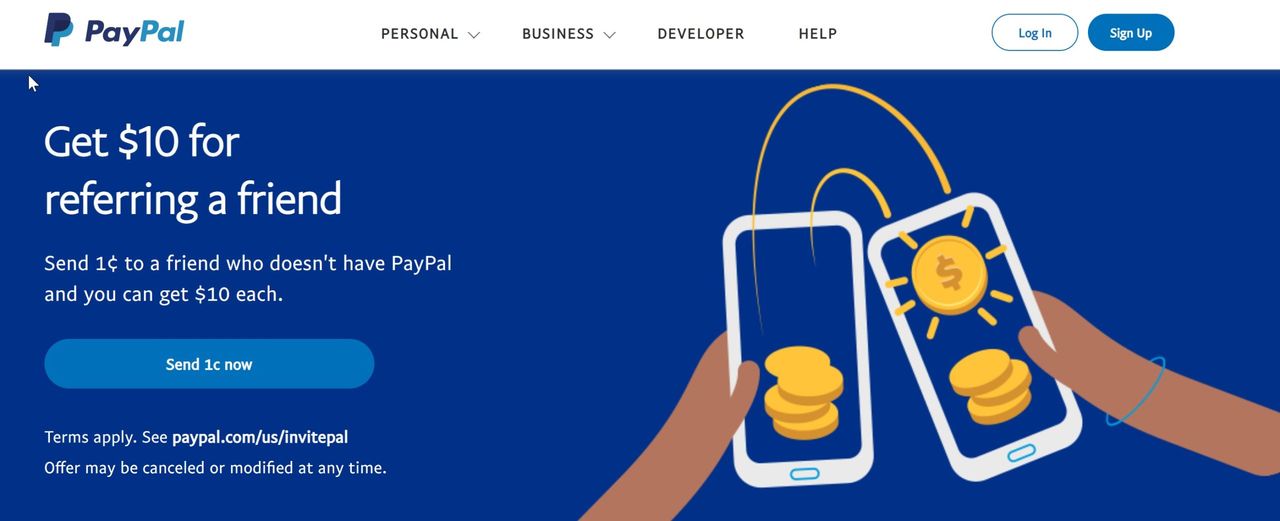 Image source: PayPal
Spotify Wrapped
Spotify released its first iteration of Wrapped in 2015 and called it Year in Music. It was a feature that let users peek into their last 365 days of music and see which songs and artists they listened to the most. People could even see how many hours of music they listened to in total.
Although this feature didn't go viral, it paved the way for what would come next: Spotify Wrapped.
Essentially, Spotify Wrapped is a more sophisticated and customizable version of Year in Music. It's a year-in-review slideshow that shows users their most-streamed songs, artists, and podcasts of the year.
In fact, Spotify Wrapped is so popular that in December 2020, it boosted app downloads by 21%; more than 90 million people engaged with the feature.
But what's the main reason for the Spotify Wrapped virality?
It has to do with its shareability.
The slideshow is delivered to users in a format that looks like an Instagram story with eye-catching visualizations. What's more, each slide has a share button, making it easy for users to share their stats on social platforms.
Key Lessons:
Make it fun for users.
Make it easy for users to share on social media or with friends.
Make it visually appealing.
Incorporate new, unique elements every year to keep users engaged.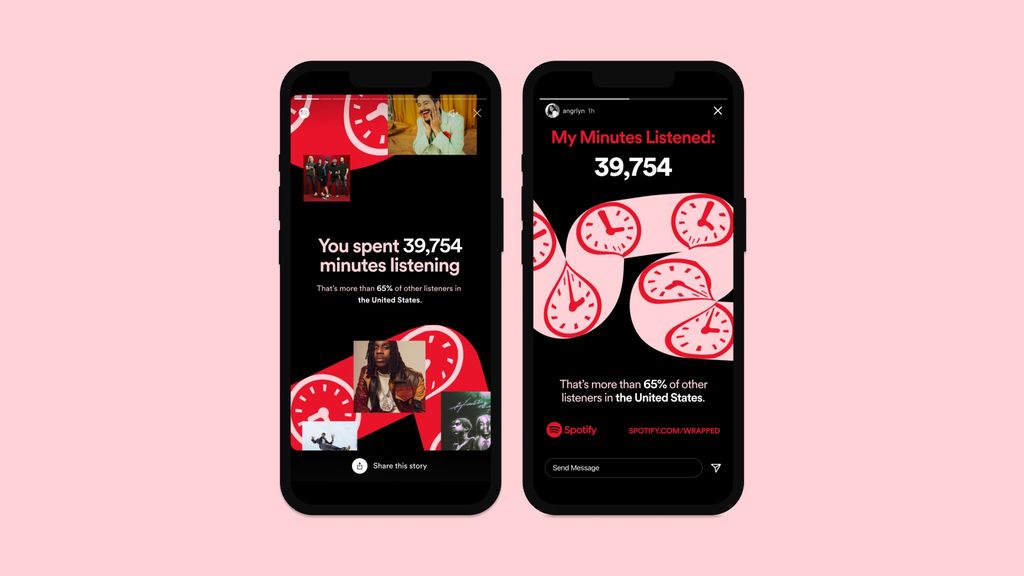 Image source: Spotify
Zoom Virtual Background Challenge
In 2020, when people were socially distancing themselves at home due to the COVID-19 pandemic, Zoom came up with a creative user-generated social media campaign to lift up their spirits (and increase its brand awareness).
They created the Virtual Background Content, where remote workers could share videos and pictures of themselves using the virtual background feature. Each month, the prizes were announced on social media, and three remote workers would get rewarded with branded items.
The company created a dedicated landing page for the challenge, in addition to promoting it on all of its social media accounts.
The campaign was so successful that more than 50,000 people signed just to participate in the contest. This campaign brought new people to Zoom and got them to explore different features.
Key Lessons:
Launch your campaign at the right time and on the right platforms.
Create a challenge for users and make it fun.
Offer rewards that would interest your users.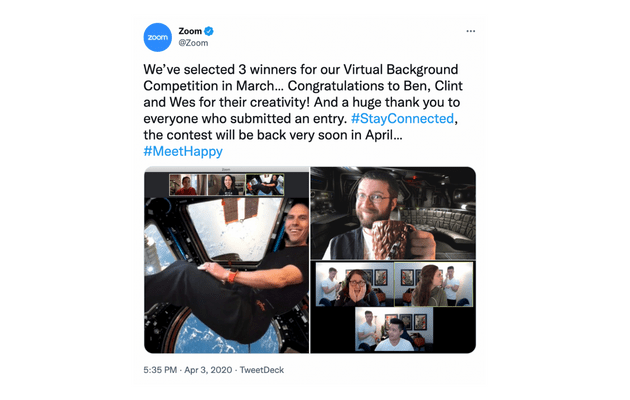 Image source: Zoom on Twitter
Final Word
There's no secret recipe when it comes to making your campaign go viral. The best thing you can do is review some of the most successful viral campaigns in the past to identify what works.
Hopefully, the examples we analyzed earlier will inspire you to create the next viral campaign that will have everyone talking. At the end of the day, it comes down to creating unique content that's relevant to your target audience, posted on the right platform at the right time, and inspires a strong emotional response.