Although so-called "serious" people may ridicule memes, that they are an essential part of modern social media. Like it or not, there is a good reason why your Instagram feed is filled up with pictures of funny cats cute kids, and motivational quotes.
According to the Collins English dictionary, a meme is "something such as a video, picture, or phrase that a lot of people send to each other on the internet." That is a very general definition, but it describes memes well. Richard Dawkins created the term, with the concept that a meme was an idea passed on from one generation to another. Does that mean the reason you share videos featuring your clumsy cat is to benefit future generations?
Despite the looser social media definition of memes we now use, you can't get away from their importance. By definition, memes are popular. Influential people share memes. If you want your material to perform better, you should share memes. And except perhaps for firms specializing in serious B2B, you should include some memes in your influencer marketing. In Recent years Meme Marketing is becoming popular among business and corporates to create brand visual impact with the help of memes.

Internet memes tend to be irreverent and fun. This means that many favorite memes have the potential to offend some people. Instagrammers often continue this irreverence when they name their Instagram meme accounts. If you are offended by memes, you should probably avoid further reading this post.
10 of the Best Instagram Meme Accounts:

Best Instagram Meme Accounts to Watch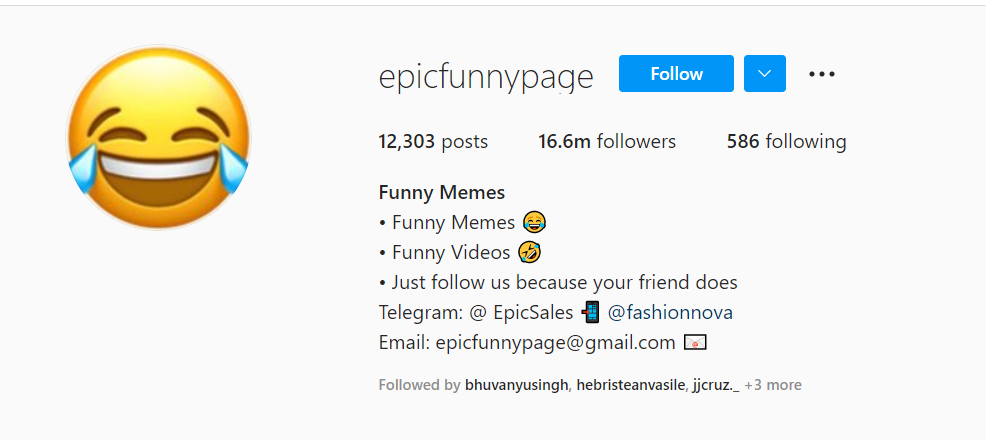 Followers: 16.6 million
@epicfunnypage is highly popular. It encourages people to follow for the funniest videos and memes. It makes a point of posting funny content multiple times per day.
At the time of writing, @epicfunnypage is set as a private account. That is not something to worry about. All you have to do is click on the blue Follow button, and before long they will give you access to their memes.
In fact, this appears to be one of 2018's greatest Instagram trends. As the Atlantic writes, "More meme accounts are going private. Their owners say it's a new way to gain followers on a crowded platform." That article quotes Jack Wagner, a Los Angeles–based director, who says "People go private because they get more followers when a follower sends a post to their friends and that person has to follow the account in order to see. It's that simple."
@epicfunnypage publishes about 10 short video memes each day, with a particular focus on kids and animals doing something funny.
---

Followers: 16.1 million
@fuckjerry has been on Instagram since 2012. It focuses on a Millenial / Generation Z audience, and its posts contain plenty of pop culture references relevant to those age groups.
The meme account has now grown into Jerry Media, which works with brands to create suitable sponsored content.
The team behind this account have even created a party game they have called What Do You Meme.
---

Followers: 16.3 million
@Sarcasm_only, which is set as a private account, bluntly asks people to "follow me before I'm hot and famous." It has a predominantly female audience, and its memes target typical problems women face in life. These can be anything from coping with poor hygiene to the stresses of daily living.
Their popularity has spread broader than just their Instagram account. The fans of @sarcasm_only even set up Pinterest boards showing their favorite Instagram memes. That shows the cross-platform appeal of social media.
Related Content:
---

Followers: 16.6 million
@daquan was set up as a meme account in 2014 by Canadian-born, Daquan Gesese. The bulk of Daquan's memes focus on topics of interest to Millenials and refer to relevant movies, shows, foods, and public figures/celebrities/athletes/musicians of interest to that age group. The claim they are "posting the funniest content from across the web."
Daquan Gesese has now moved south of the Canadian border to NYC, and some of his memes now reflect his new home base.
---

Followers: 10.1 million
Unlike the majority of these Instagram meme accounts, @thefatjewish is very much based around its owner's identity. The "Fat Jew" in question is Josh Ostrovsky, an American writer, actor, model, winemaker, entrepreneur, and Instagram celebrity.
Ostrovsky created this Instagram account in 2009, but it went viral in 2013 after he posted a video parodying Soul Cycle, in which he led a spin class for homeless people.
Time magazine included Ostrovsky in its 2015 list of The 30 Most Influential People on the Internet.
As with most of these accounts, @thefatjewish takes a firmly irreverent look at life.
---

Followers: 8 million
As anybody who has grown up with the internet knows, lmao stands for "laughing my ass off." @lmao tries to ensure that its followers do precisely that. Their posts often feature the funny parts of everyday people's lives.
The site is owned by @joey and publishes funny content daily. The material is a mix of short videos and funny still images, with appropriate captions.
---

Followers: 1,908
@societyfeelings has followed the current trend of making their account private, but, as usual, all you have to do to follow it is to click on the blue Follow button and wait for an administrator to approve you.
Their description says that you should "Follow for the deepest videos/pics. Multiple deep posts every day that you'll love".
If you like those emotional posts that pull at your heartstrings, then @societyfeelings should be ideal for you. Just make sure that you have located your box of tissues first.
---

Followers: 8.4 million
Yet another private account, @couplesnote features relationship posts and quotes. All of its memes focus on love and relationships.
The word "couples" in its name is important. Much of the content posted refers to "couples goals" and romantic moments between couples.
Of course, it is probably not the best account to follow if you are single, as it playful points out all of the downsides to the single life.
---

Followers: 6.7 million
This is a clear example of "you get what the label says." If you want to see and share funny memes, then it makes sense to come to the long-established @funnymemes.
Like so many of these accounts, it is private, so you will need first to apply to be a follower.
It describes itself as "Instagram's Funniest Video Account" and features "funny, crazy, insane, and outrageous videos."
With the only common factor of this account's memes being that they are funny, @funnymemes has a very diverse audience, which you should bear in mind should you wish to work with them when influencer marketing.
---
Followers: 11.8 million
While many of the Instagram meme accounts featured here cater predominantly for a female audience, @ladbible has a very different target market. They share memes that the typical young male ("lad") enjoys. These include topics like drinking, gaming, sports, cars, and chasing after girls.
As support for the account has grown, though, it has become less lad-focused, catering to a broader range of tastes. However, it still plays to a non-PC, young audience.
---
Why are Instagram Meme Accounts Becoming Extremely Effective as IM Tools?
Meme accounts are some of the most popular on Instagram. People almost instinctively share funny images, GIFs, and short videos, especially when they include some pithy or culturally-relevant caption. Most influencers, recognizing this, include a range of meme posts amongst the posts they share.
The majority of people who spend time on Instagram, Facebook, Twitter or other social media networks share a range of meme posts – even serious B2B Instagrammers on occasion.
The number of people following these Instagram meme accounts is quite astonishing. They have as many followers as leading influencers in many popular niches.
This is partly because they are easy to consume. It doesn't take much effort from an Instagrammer to view/read/watch the meme and understand its message. In these days of busy people with short attention spans, brevity is valued.
If you can work with an influencer to somehow incorporate your message into a meme, without it looking like a deliberate promotion, then you have the ideal situation.
Memes are shared much more than typical Instagram or other social media posts. People often tag friends who they believe will enjoy the meme – whether they subscribe to the original Instagram account or not.
If the image is particularly memorable, people may use it in multiple memes – merely changing the caption each time. This can even lead to "memes within memes."
---
Meme Accounts Are Less Niche and More General than Most Influencer Accounts
The critical thing about the leading Instagram meme accounts is that they are general. They share posts on a wide range of topics with a vast variety of diverse Instagrammers. They don't have the same kind of subject-related niche audience that typical micro-influencers possess.
Thus they function more like celebrity influencers than micro-influencers, although people will still share many of their memes in suitable niche channels.
They are particularly popular with Millennials, and there are probably more memes relating to the concerns of Millennials than anything else.
Meme accounts are particularly suitable for brands who target large, diverse audiences. They allow brands to build awareness, taking a more general approach than typical niche-specific influencer marketing.
---
Category Specific Meme Accounts are on the Rise
As meme accounts have become more common, people have begun to build specialist niche meme sites. The @ladbible meme account above is one example of a themed account.
There needs to be a balance here. The secret of meme account success is popularity. For this, you need large numbers of people to see your meme posts. If you go too niche, you break down your potential audience too much. However, it is possible to set up a specialist meme account, as long as you restrict yourself to relatively broad categories. An Instagram meme account focusing on fashion and beauty would be fine. But you would struggle to gain traction if you confined your memes to just women's winter clothing